ABOUT JAYBIRD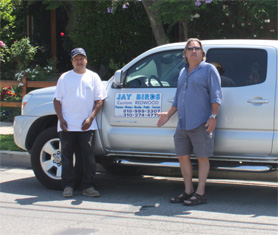 James Jay Holte - I started my business since January 1975. I take pride of my work as a wood fence artist. Through my experience over the years, I perfected number of techniques of fencing installations and number of my own custom designs.
I like working individually with each client to assure they get the design and layout that best fits their need. Some clients know just what they want, while others need some help deciding what fence style, design and layout will work best with their property and architecture. But in either case - the client ends up with a fence or gate than enhances the look of their home, and will last fro many many years. I approach every job as if it were my own home - using the best materials available, and using the techniques and skills I've learned over 35 years of creating fences and gates.
I've been told that the difference between me and other people is that I CARE.

Call Jay Bird at 818-312-1616 for quality you can count on.